Alchemy Dubs come with their twelfth release on 7" format, a collaboration between Ojah, Chazbo & Yuuri Bamboo.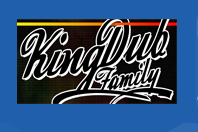 The A side contains the track "Resilience", a melodica version over a 90's inspired steppers riddim. The first verse is played by UK Dub legend Chazbo, while the second verse is played by Japanese melodica player Yuuri Bamboo, bringing to the table two unique and different yet complementary melodica styles. 
On the B side we find a hypnotic and adventurous stripped-down dub version, reminiscent of those early morning dubs at a Shaka session, mixed live in analog by Ojah at his studio. 
Limited edition of 350 copies, hand-stamped and hand-numbered, served in a thick custom reversed kraftliner sleeve. 
Graphic design by Victor Castro. 
BUY LINK : https://alchemydubs.bandcamp.com/merch/ojah-feat-chazbo-yuuri-bambooresilience-resilience-dub-aldbs7012-7-vinyl
http://kingdubfamily.com/resilience-7-alchemy-dubs/